As REALTORS®, Mainstreet members get to see just how much people value their homes and neighborhoods, and what a difference finding the perfect home can make to an individual or family. But not everyone in our communities can access homeownership on their own, or maintain their homes without assistance.
This year, Mainstreet is formally partnering with six local nonprofits to help in our communities. Five of these organizations provide services directly related to housing, while one, the Conservation Foundation, is all about maintaining the natural resources that make northern Illinois such a wonderful place to live.
Read on to learn more about each of these organizations, and see which ones you're drawn to support.
Community Partners for Affordable Housing (CPAH) aims to increase and preserve affordable housing, for both renters and homeowners. CPAH programs help local residents rent, buy, repair and save their home from foreclosure through a variety of programs. These include financial counseling, downpayment assistance, funds for home accessibility improvements and more.
Amy Robey, Vice President of Marketing and Communications at Mainstreet, recently joined the Advisory Board to begin building a partnership between Mainstreet and the nonprofit.
With over 5,000 members and 500 volunteers, the Conservation Foundation is all about preserving land and protecting rivers and streams right here in Illinois. They offer a wide variety of ways to get involved, including through adopt-a-stream programs, storm drain stenciling, community rain barrels, community gardens and more. They also provide resources for both private landowners and public agencies to care for and develop land in conservation-minded ways.
Based in Wheaton, H.O.M.E. DuPage has been serving the western suburbs for nearly three decades. H.O.M.E.'s staff of trained housing counselors helps low- and moderate-income residents achieve homeownership. The organization offers workshops on topics including homebuyer education, financial fitness and foreclosure prevention, and also offers counseling around foreclosure prevention and reverse mortgages.
In October, H.O.M.E. held a fundraising breakfast highlighting how the program helped one family move into their first home in the United States. Klovirt and Raga worked with a financial coach and a housing counselor through H.O.M.E. DuPage and then with a Mainstreet REALTOR® in order to become homeowners. If you'd like to help more people like Klovirt and Raga achieve their dreams of homeownership, talk to Amy Robey, Vice President of Marketing and Communications at Mainstreet and Chairperson of the H.O.M.E. DuPage Board of Directors.
Lake County Responds provides home repairs and renovations for veterans who might not otherwise be able to afford them. This new offshoot of Naperville Responds for Veterans collects donations of money, materials and professional labor in order to do its work.
As part of our recent Oktoberfest, Lake County Responds sold 50/50 raffle tickets, which raised $270 to help grow the organization.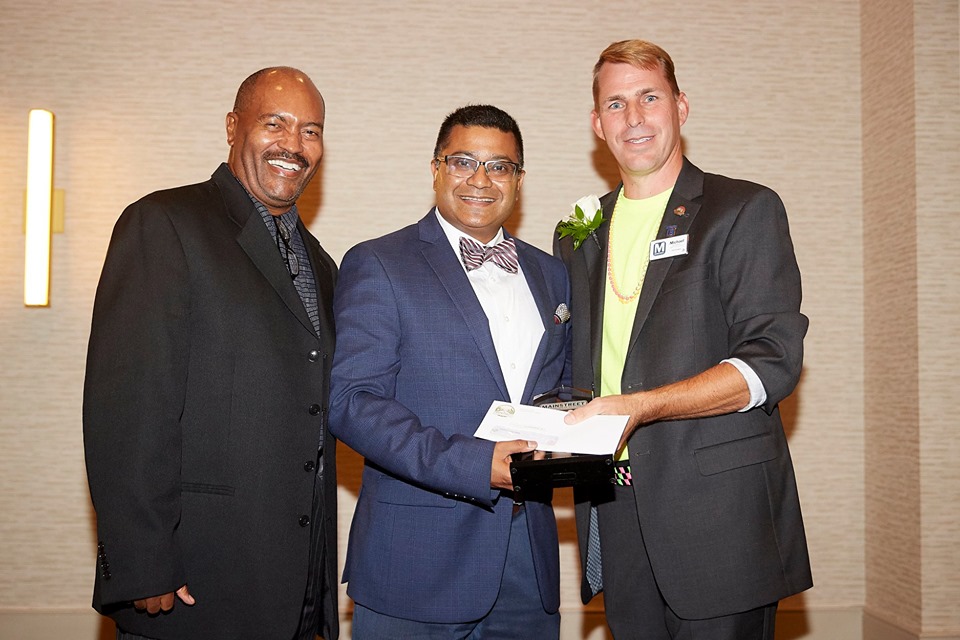 Dale Taylor Awarded First Place for the Good Neighbor Award at the 2019 Mainstreet Installation Event. The Check was Presented to South Suburban PADS. Pictured L to R, Dale Taylor, Rohit (Ro) D'Souza, Mike Gobber.

South Suburban PADS helps people experiencing homelessness access transitional housing and, eventually, permanent supportive housing. The organization offers emergency shelters from October through April, and has a 77-unit building with a culinary arts program, computer center, case worker assistance and more.
This year, the National Association of REALTORS® honored Mainstreet member Dale Taylor with the Good Neighbor Award from the for his nearly two decades of service with South Suburban PADS. Learn more about his extraordinary commitment and get inspired to make your own commitment with these articles about his work and recent award:
The Salvation Army provides fifty unique programs and services to help people in need throughout Chicagoland, including emergency assistance, rehabilitation programs, childcare, counseling, housing and disaster relief.
This will be the second year Mainstreet has partnered with the Salvation Army to further this critical work. Will your office sign up to ring kettle bells this winter? With your help, Mainstreet could have an even greater turnout this year. To learn more about how to get involved, read last year's blog: Mainstreet and the Salvation Army: Give back this holiday season.
Please consider getting involved with one or more of these nonprofit partners. Over the next few months, we'll be sharing more about each of them. To read more about them, keep an eye on our blog.