Color plays a vital role in the appearance of a home, whether staging a home for sale or updating the design of a room. Having a better understanding of color theory can give you the confidence you need to lead your clients in making wise design decisions as they prepare to sell their home.
That's why Mainstreet has invited home staging and design expert, Julea Joseph of Reinventing Space, to share color theory tips and strategies you can apply to your business.
The seminar will cover:
Why color is important when selling a home
How to create color balance within a home
Basic rules of creating a color palette
Understand how color affects personality
Room perspective
Color Formula
Best staging colors
Color trends
Speakers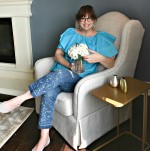 Julea Joseph
Speaker

Interior Design and Home Staging business owner, Julea Joseph has been in the home staging industry since 1999. Her extensive knowledge, experience and passion for the field, should make the CSC the top of your CE list.