Mainstreet Organization of REALTORS® is committed to identifying and developing the next generation of real estate leaders. As part of Mainstreet's Centennial and the 10th year anniversary of its Young Professionals Network, Mainstreet is pleased to announce its first ever Class of 20 Under 40.
This award recognizes Mainstreet REALTORS® who are 40 or younger and who have demonstrated industry leadership, community involvement, commitment to advocacy, and/or business success.
In the inaugural year, YPN received more than 60 applications, letters of recommendations, and videos showcasing the applicants' achievements and involvement in the real estate industry and their communities. While we wish we could select everyone as a winner, we couldn't be more pleased with our first class of award recipients.
As Chicago Bulls legend Michael Jordan said, "Earn your leadership every day." These twenty individuals are exemplary leaders not only in their communities, but for the real estate industry, for they have shown leadership, passion, and commitment to the REALTOR® name every day.
Congratulations, and thank you to all our applicants!
And the Winners Are...
Eric Anderson
Eric Anderson Homes, Brookfield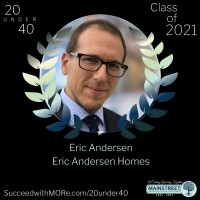 Eric has been a dedicated REALTOR® since 2017 and in less than four years, he has sold over 100 homes. In 2020, he opened his own brokerage, and while the year posed challenges, he was still able to produce his best year to date. Eric has invested heavily in learning digital marketing strategies to help get his listings more exposure to reach the goal of selling property more efficiently. A father of six young children, he is able to balance being a REALTOR® while also serving as a pastor at two churches. Eric was also a recent recipient of a 2020 Gold Level Mainstreet Production Award.
# Sheena Baker
CarMarc Realty Group, Aurora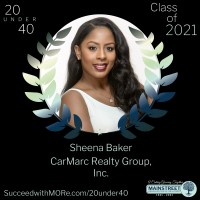 After purchasing her first home at the age of 19, many of Sheena's family and friends would ask her how she did it so young. This was the driving force for her to obtain her real estate license in 2006 as she thinks that everyone should experience the benefits of homeownership. She is a recipient of a 2020 Diamon Level Mainstreet Production Award. Sheena is a past president of the Women's Council of REALTORS® (WCR) West Suburban network and is an active speaker in her community and through the Association. Sheena was also a 2020 Illinois REALTORS® Leadership Development Academy graduate.
*# Eric Basiorka
Keller Williams Preferred, Orland Park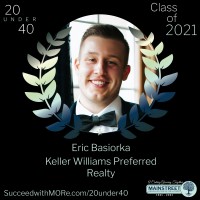 Eric has been an active volunteer with Mainstreet since he started his real estate career in 2015. He has been involved with the Young Professionals Network (YPN) since 2015, been involved on the RPAC Committee, and is a member of the Mainstreet Board of Directors. He has been a featured panelist on the topic of creating video. A passionate community advocate, Eric has served as part of the Lemont Park Foundation Board since 2015 helping with fundraising efforts to provide equipment for the park district. He developed the Heart of New Lenox, a social media page dedicated to using video to showcase local businesses as well as New Lenox Cars and Coffee, a bi-weekly event that brings together car enthusiasts and helps support a local coffee shop.
*# Megan Beechen
Realty Executives Elite, Lemont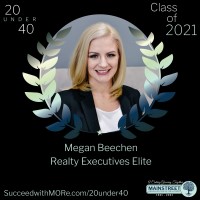 Megan started her real estate career back in 2012 working as an assistant to her mother-in-law, and you can say that her career has blossomed since. One of Megan's most noteworthy accomplishments of her career so far was when she was awarded the National Association of REALTORS® 30 Under 30 Award in 2019. Megan is the current 2021 Chair for the Illinois REALTORS® Young Professionals Network (YPN) Advisory Board, a graduate of the 2020 Illinois REALTORS® Leadership Development Academy, served as Mainstreet's YPN Vice-Chair and Chair, and so much more. Her expertise has been featured on various panels and podcasts. She is a recipient of a 2020 Diamond Level Mainstreet Production Award.
*# David Bovyn
Kale Realty, Bolingbrook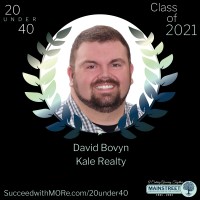 David has been an active volunteer since becoming a REALTOR®. David has previously served as Mainstreet's YPN Committee Chair and considers that to be one thing in his real estate career that he is most proud of. He currently is on multiple committees at Mainstreet, including YPN, Grievance, and RPAC. In addition, David was a member of the 2020 Illinois REALTORS® Leadership Development Academy. He currently serves on the Illinois REALTORS® Young Professionals Network Advisory Group.
# Jonathan Darin
Coldwell Banker Real Estate Group, Homer Glen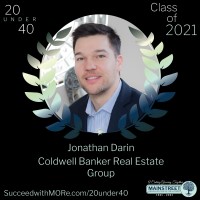 Celebrating 10 years in the real estate industry this year and being a third generation REALTOR®, Jonathan has had many accomplishments throughout his career. He was awarded Coldwell Banker's 30 Under 30 award in 2017 and is the leader of the Top Team in Illinois with Coldwell Banker Real Estate Group, just to name a few.
* R'Che Feon
CarMarc Realty Group, Warrenville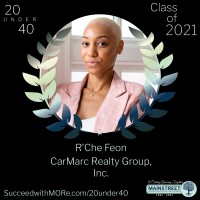 When asked to describe herself in three words, one word R'Che used was "education." She contributes her success in real estate to the education she has received. While R'Che just started her real estate career in 2019, she has already earned six designations including ABR, CSC, C2EX, PSA, RENE, and SFR. Between her and her partner, who is in credit repair, they help educate family, friends, and the community about the power of real estate and credit. In addition to what R'Che does to help educate the people around her, she is also involved as the event director for the Women's Council of REALTORS® West Suburban. Dedicated to giving back to her community, she volunteered weekly for the Rock of Ages Food Pantry.
Kristi Gorski
DPG Real Estate, Lisle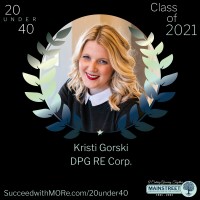 Kristi's professional story starts eight years ago when she opened her own clothing boutique store in Evanston, IL. From there, she went on to do web design for other small boutiques, created effective email marketing campaigns, and then started her real estate career in 2016. Kristi has been involved with Mainstreet, serving on the YPN committee. She also serves as Co-President of the Downers Grove Area Newcomers (DGAN) Board, a local women's group with more than 100 members. Through her work with DGAN she organized the Sipping for a Cause fundraising event to support local nonprofit Bridge Communities.
Ryan Ivemeyer
Century 21 Affiliated, Aurora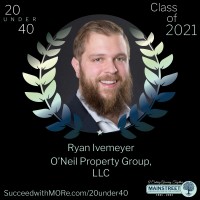 Ryan decided to pursue a career in real estate when he wanted to combine his desire to build a business and fulfill his entrepreneurial needs. He was a member of Mainstreet's YPN Committee and is active in the Aurora Sunrise Rotary Club, where he is the current presidential nominee for the 2022-2023 year. Ryan was recently recognized as a 2020 Gold Level Mainstreet Production Award recipient.
Hussain Kazmi
Realtopia Real Estate, Inc., Lockport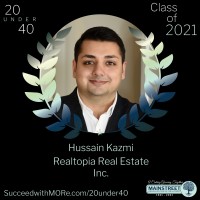 Hussain has always had the real estate and mortgage industry in his life. His father owned a real estate firm and his mother owned a mortgage company. In 2013, Hussain was presented with an opportunity to invest and join the company that his father ran. Ultimately Hussain knew this was his calling and joined. Hussain is a REALTOR® advocate, invests in RPAC, and also gives back to his community by donating to his local animal shelters.
Kirsten Keller
@Properties, Downers Grove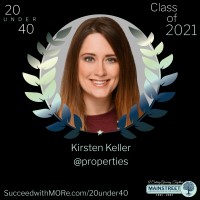 Current Chair of Mainstreet's Young Professionals Network Committee, Kirsten Keller, was instrumental in orchestrating a temporary parklet for the Village of Wheaton utilizing the NAR-Mainstreet Community Outreach Grant. Her success is largely defined by her ability to help others. Outside of real estate, she is a passionate advocate for mental health and volunteers with the National Alliance on Mental Illness (NAMI) DuPage Chapter. During the pandemic she led NAMI DuPage in the development of its first Associate Board to develop future leaders within the organization.
Rocio Mena
Homesmart Connect LLC, Libertyville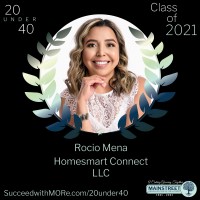 Honest, strategic, dedicated; Rocio is the current President of the National Association of Hispanic Real Estate Professionals (NAHREP) Lake County Chapter. She recently received a 2020 Gold Level Mainstreet Production Award and prides herself on having a business that runs mostly on referrals. She volunteers in her community by leading PEP (Parents Educating Parents) classes through Waukegan College.
Naja Morris
@Properties, Elmhurst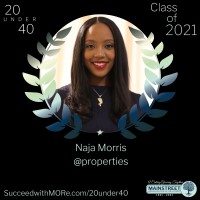 Former Mainstreet Board of Director, Naja Marris, has invested time in becoming an industry leader at both the local and state level through her volunteer work on multiple committees. In 2018, she was one of 12 REALTORS® in the state of Illinois to be selected for Illinois REALTORS® Leadership Development. Taking her passion for advocacy to the next level, she became a State Legislate Coordinator to Representative Andre Thapedi and serves as an Ambassador for the Neighborhood Building Owners Alliance (NBOA) allowing her to be the voice for small portfolio landlords.
Monica Navarro
john greene, Realtor, Oswego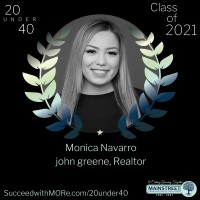 Licensed in 2018 in her early twenties, Monica graciously persevered through tragedy setting a courageous example for all to follow. Her commitment to professionalism took center stage as she invested in earning the Military Relocation Professional Certification and Certified Staging Consultant early in her career. Her leadership shines through her dedication to the growth of the agents around her, teaching them how to host open houses and allowing others to shadow her.
Ivonne Payes
RE/MAX American Dream, Round Lake Beach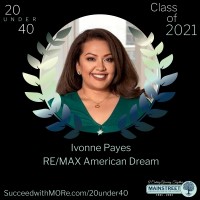 In 2019, Ivonne was named the youngest female President of the National Association of Hispanic Real Estate Professionals (NAHREP) Chicago Chapter. Before being licensed, at the age of 19 she was able to develop an expertise in the short sales negotiation process through her experience working for a law firm. She has demonstrated her leadership in the industry by creating/developing future leaders and empowering others to be the best version of themselves.
Jason Stallard
Keller Williams Success Realty, Barrington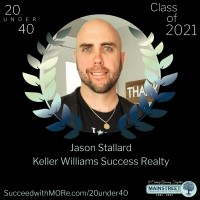 Dreamer, selfless, and driven; Jason is known for his willingness to think outside the box. He exemplifies being a community-first REALTOR® through the development of his Love Local Off 53 brand that utilizes social media, video, and other story telling techniques to highlight small businesses and nonprofits. A past volunteer of Mainstreet's Young Professionals Network Committee, he currently volunteers with Kids Hope, a nonprofit dedicated to mentoring elementary age children.
Erin Stout
RE/MAX Plaza, Wauconda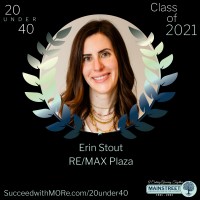 A third generation REALTOR®, Erin gave back to her community during the pandemic by learning how to sew and making more than 1,000 masks that she gave away to those who needed one. She displayed excellence in advocacy through working with Mainstreet's Government Affairs Department to get a flooding issue resolved in her community. Her efforts helped the neighborhood secure a $40,000 grant this year.
Kushal Thakkar
Coldwell Banker Realty, Schaumburg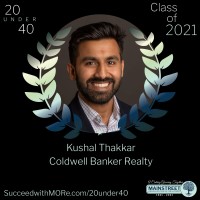 Confident, analytical, self-starter Kushal began his career after graduating from the University of Illinois when he bought his first investment property with his brothers. Specializing in first-time investors, his clients resoundingly agree that he always goes above and beyond, making sure they have a competitive edge. A devoted mentor, Kushal has poured his experience into helping grow the careers of 10 new REALTORS® over the past three years. He has been giving back to his community for more than 10 years through his volunteer work with BAPS Charities.
Laura Thon
Berkshire Hathaway HomeService, Glen Ellyn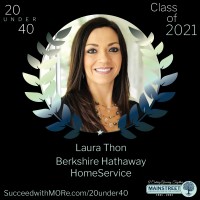 An example of multitasking to behold, Laura started her career in real estate knowing it would provide schedule flexibility to still be a super mom to her five children (ages 5-17). She is President-Elect of Women's Council of REALTORS® West Suburban Network and Vice-Chair of Mainstreet's Young Professionals Network Committee. Her dedication to providing outstanding service to her older clients led her to earning the Seniors Real Estate Specialist® (SRES) Designation and volunteering with Mainstreet's Senior Services Committee.
# Connie Vavra
RE/MAX Professional, Bolingbrook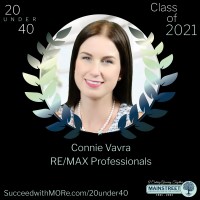 Invested in elevating professionalism across the industry, Connie has shown her dedication and influence at the local and state level through her involvement on the Professional Standards and Broker/Lawyer Committees. She was one of 12 selected for the 2020 Illinois REALTORS® Leadership Development program. She is a former Mainstreet Young Professionals Network Committee Chair and current Vice-Chair of Illinois REALTORS® Young Professionals Network Advisory Group. Connie also currently serves on Mainstreet's Board of Directors.


*Denotes YPN RPAC 10 for 10 Pledge
#Denotes RPAC Major Investor