Veterans and Active Military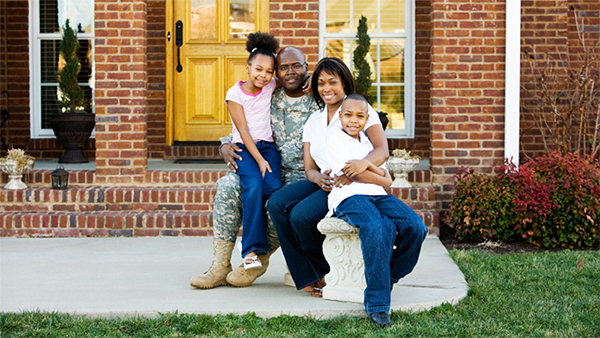 Accessing VA Loans
The U.S. Department of Veterans Affairs' Home Loan Program assists veterans and active military members and their families in purchasing and maintaining homes. These loans are provided by private lenders, such as banks and mortgage companies. Because the VA guarantees to cover part of the loan, these lenders can offer you more favorable terms.
Purchase Loans help you purchase a home at a competitive interest rate, often without requiring a down payment or private mortgage insurance.
An Interest Rate Reduction Refinance Loan (IRRRL) can help you obtain a lower interest rate by refinancing your existing VA loan.
The Native American Direct Loan (NADL) program helps eligible Native American veterans finance the purchase, construction or improvement of homes on Federal Trust Land, or help reduce the interest rate of a VA loan.
Adapted Housing Grants help veterans with disabilities purchase or build adapted homes or modify their existing homes.
Lean more about eligibility requirements for these loans here.
Home Financing for Veterans
The Illinois Department of Veterans' Affairs offers mortgage assistance and resources for veterans experiencing a difficult mortgage payment.
Veterans' Affairs
Property Tax Exemptions
In Illinois, veterans qualify for a number of property tax exemptions.
The Returning Veterans' Homestead Exemption provides qualifying veterans a one-time $5,000 reduction to their homes' equalized assessed value.
The Disabled Veterans' Standard Homestead Exemption offers a $2,500-5,000 homestead exemption for disabled veterans. This exemption also applies to a veteran's spouse. Spouses of service members killed in the line of duty are also exempt from paying property taxes on their primary residence.
To see if you qualify for these exemptions and apply, contact your local county assessor's office:
Veterans' Homes
Veterans' homes offer long-term care for eligible veterans and their spouses. If you move into one of these communities, you'll live alongside others who have served. Illinois has four, located in Anna, LaSalle, Manteno and Quincy. Learn about your eligibility and your options here.
For other questions about buying or selling a home as a veteran or active service member, contact your nearest Veteran Service Officer.
Good luck on your house hunt, and thank you for your service!
Local Home Listings
You can now search all Chicagoland home listings from Mainstreet REALTORS®️. Start looking for your dream home today.
Search Now