In a year that was anything but normal for Illinois real estate, median sales prices were up from 2021 to 2022 and sales were down.
Mainstreet's 2022 annual data shows there were 35,741 single-family homes sold in 2022, a 22.5% decrease from 2021 when there were 46,109 sold. Low inventory was also a factor in increasing median sale prices for detached homes, which were up 5.5% from $325,000 in 2021 to $343,000 in 2022.
"Last year started out with the pandemic market, where buyers were actively pursuing home purchases and the market was really competitive," said Debbie Pawlowicz, president for the Mainstreet Board of Directors. "It ended with continued low inventory and higher interest rates, aiming at a more balanced market."
Focusing on the December 2022 data, there were 2,172 single-family homes that sold, down 38.2% from December 2021, when 3,513 homes sold. Median sale prices only increased 1.0% from December 2021, when they were $312,000 to December 2022, when they were $315,000.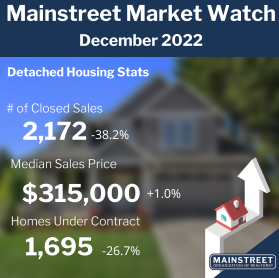 "Now is a great time to work with a Mainstreet Realtor to buy or sell a home, despite the interest rates, because a balanced market is good for everyone," said Mainstreet CEO, John Gormley. "For buyers, there's always the option to refinance down the road, and purchasing a home now means you'll start benefiting from the appreciation right away."
The sale of attached homes in December 2022 was also down 40.6%. There were 961 attached homes that sold in December 2022 versus 1,617 that sold in December 2021. Median sale price increased 8.6% from December 2021, when it was $195,200 to December 2022, when it was $212,000.
"It will be interesting to see what 2023 brings, but I do think there is some seasonality returning to the market," concluded Pawlowicz.
Mainstreet recently held its 2023 Economic Outlook Breakfast, Dr. Anthony Chan, Chief Economist and Chairman of Chan Economics LLC, indicated that while there was not a recession in 2022, he predicted, along with other analysts, that there could be a mild recession during the back half of 2023.
"We know that we get a recession every 5.3 years, on average, certainly over the last 60 years. But, a recession only lasts an average of 10.3 months," said Chan. "Yes, this is a bump in the road, but it's not a permanent bump. Things are going to get better eventually."
Chan also predicted interest rates will be at no more than 4.4% by the end of this year.
In Chicagoland, the following suburbs sawparticularly steep declines in the numbers of homes sold through 2022:
Arlington Heights (30.0% decrease in number of detached homes sold)

Bartlett (34.7%)

Batavia (30.9%)

Bloomingdale (31.5%)

Glen Ellyn (37.3%)

Hainesville - Grayslake (31.0%)

Keeneyville - Roselle (36.4%)

Lombard (30.8%)

Long Grove - Lake Zurich - Hawthorn Woods - Kildeer (35.1%)

Mundelein (30.7%)

Niles (31.0%)

Oak Brook (33.1%)

Oswego (31.1%)

Palatine (30.4%)

River Grove (37.9%)

Rolling Meadows (31.0%)

Streamwood (33.6%)

Vernon Hills (31.1.%)

Willowbrook (31.4)

Wood Dale (33.3%)