Single-family detached home sales in 2023 have been tumbling in the Chicagoland suburbs, but last month brought a slight exception.
While month-over-month decreases have been in the double digits since January, October saw only a slim 5.8% decrease, with 2,344 sold last month, compared to 2,489 the same month last year.
"It's hard to say if the even out in number of homes sold from this October to last October is something we will continue to see in future months, but what I can say is that for a host of reasons, buying a home in today's market is becoming more and more challenging every day," said Tim Ryan, President of the Mainstreet Board of Directors.
Recent data suggests that significant finances are required to buy a home. Median home buyer income between July 2022 and June 2023 increased 22%, from $88,000 to $107,000. This is the largest annual increase on record. Down payments also soared to the highest percentages in two decades. The typical down payment for first-time buyers was 8%, which is the highest since 1997 when it was 9%. The typical down payment for repeat buyers was 19%, the highest since 2005 when it was 21%.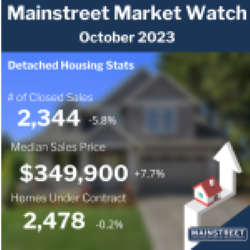 "The only people who are looking to move are doing so because of a change in life circumstances that is leading them to have to move right now. However, because of such low inventory, homes are still moving quickly," added Ryan.
Time on market for detached homes in October was down from 42 days last year to 38 days this year, and median sales prices were also still up 7.7%, from $325,000 to $349,900.
"Not only is low inventory making it more challenging to find a home, increasing home prices, which we're seeing in the Chicagoland suburbs, coupled with high mortgage rates, are making it even harder to buy a home – even if you find one you love. In fact, housing affordability remains historically low," said Mainstreet CEO John Gormley. "Homeownership is such an important component of generational wealth-building, but there's work to be done."
The same recent buyer data showed 81% of buyers from June 2022 to July 2023 were White/Caucasian – down from 88% last year, 7% were Hispanic/Latino, 7% were Black/African American, 6% were Asian/Pacific Islander and 6% identified as some other race.
"We're continuing to work with our Mainstreet's REALTOR® members, consumers, and our local, state and federal policymakers to advocate for the conditions that will open the doors for more homeownership in this country," Gormley continued.
When looking at attached homes, there have been similar month-over-month trends this entire year. Sales in October of 2023 were down 14.2% – 1,306 attached homes sold in October of 2022 compared to 1,121 this year – but these homes still remain very popular. Time on market last month fell 31.3% from 32 days last October to 22 days this October, and prices were up 13.0% from $215,000 to $243,000 this year.
Following are several suburbs that saw an increase in homes sold from October 2022 to October 2023:
Aslip (20% increase in home sales)

Brookfield (70.0%)

Hazel Crest (33.3%)

Hoffman Estates (13.0%)

Homewood (44.4%)

Long Grove - Lake Zurich - Hawthorn Woods - Kildeer (5.7%)

Markham (17.7%)

Naperville (16.1%)

Niles (110.0%)

Oswego (85.7%)

Park Forest (115.0%)

Park Ridge (40.0%)

Westmont (69.2%)

Wheaton (12.1%)
If you're a REALTOR®, it's important to help your buyers understand that although the market is challenging, you have access to data and local market knowledge that will help them better understand the local real estate market, explore their options and find the right home for purchase. You can also help buyers leverage payment assistant programs like FHA, VA or USDA loans.