Photofy
Polished, Personalized REALTOR®️ Content for Social Media
Complimentary Access to Easily Branded Content
As a REALTOR®️, you're probably already active on social media. But now, there's a new way to create engaging posts that will catch your audience's attention and remind them of the value of working with a REALTOR®️.
Mainstreet has partnered with the National Association of REALTORS®️ (NAR) to offer all members access to Photofy, a powerful mobile content creation tool. Photofy allows you to quickly and easily personalize social media images and videos with your name and business information. When you create a Photofy account through NAR, you'll see a number of campaign materials from the new "That's Who We R" campaign featuring the NAR and Mainstreet logos, with a space for you to add your own information. Mainstreet's gallery includes a selection of graphics expanding on the NAR campaign.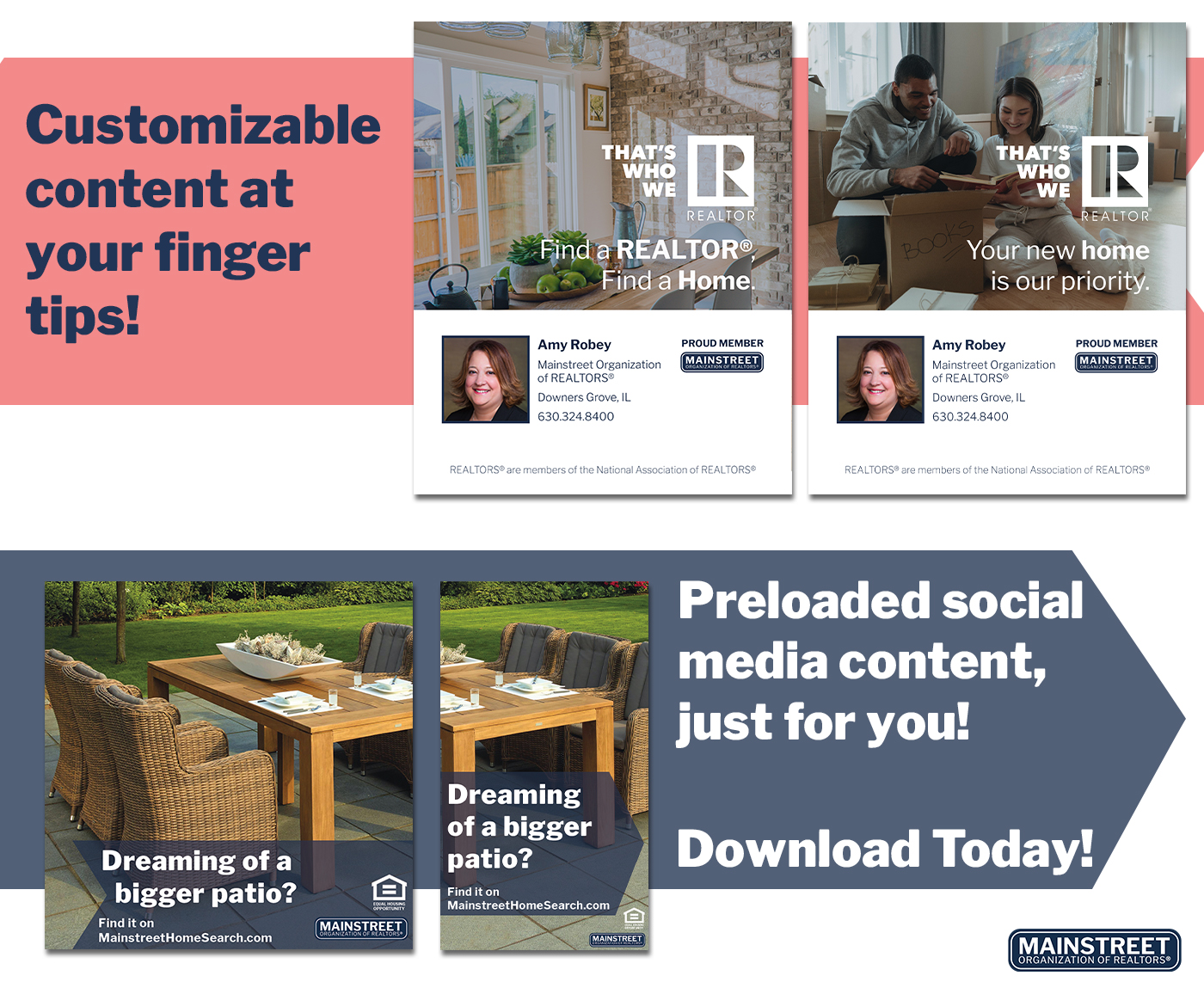 Custom Shareable Images in Seconds
Using the Photofy app, available through the Apple App Store, Google Play, or Amazon., you can add your headshot, name, business name, and contact information in less than 5 minutes, then export the image for use on Facebook, Twitter, Instagram and LinkedIn.
Registering for Photofy is Easy!
1. Sign up for your complimentary access at signup.photofy.com/nar#getstarted
2. Download the Photofy app from the Apple App Store, Google Play, or Amazon.
3. Once logged in, toggle between NAR and Mainstreet content at the bottom of your screen.
New Feature Introduced on Photofy!
Did you know that you can create and share videos with Photofy? You can customize your videos by adding logos, contact information, headshots and more! Simply tap the 'video' button on the home screen and you are on your way to customizing your most engaging social media posts yet!
Share the Value of a
REALTOR®
We love the "That's Who We R" campaign, and we're counting on Mainstreet members to spread the word on social. Use these bright, engaging graphics to remind your network of the value of a REALTOR® this summer.