Broker Post-Licensing
Register with Mainstreet and Save!
Click the image below or here for details and registration.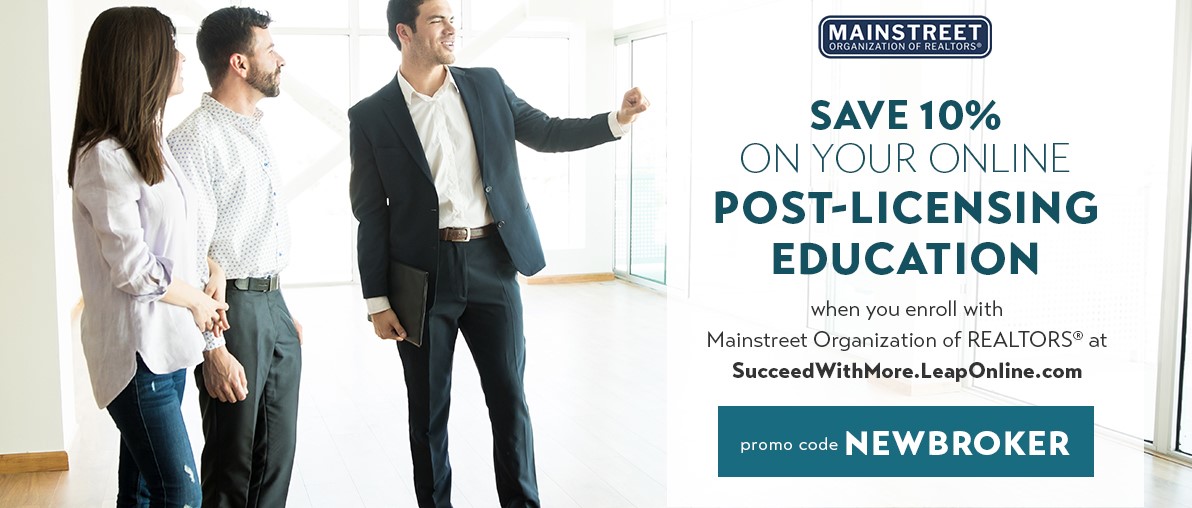 New Broker Licensees and the Post-Licensing Requirement
Newly licensed brokers are required to complete a 45-Hour Post-Licensing course during their first license renewal period. Not sure if the requirement applies to you? View Mainstreet's updated 2024 Broker Renewal Chart to see which path applies to you for the next renewal period.
Not sure when your license was issued?
Look up your issue day by using the license lookup tool. Please note; you must have an active license in order to take the 45-Hour Post-Licensing Course.
Mainstreet Member 45-Hour Post-Licensing Course Options - 5 Days Instead of 6!
Current Mainstreet REALTORS
®
will fulfill the first day of the 45-Hour Course when they attend the mandatory new member JumpStart course. This means that Mainstreet members only have to complete 5 days of the course instead of 6.* And there's a bonus. This course counts as credit towards the
GRI Designation
. View the calendar for our
45-Hour Course schedule
.
*Only Mainstreet offers the 5-day option for this course. If you take your 45-Hour Course with any other school you will be required to take all 6 days.