Until the issue of low housing inventory is addressed, the residential market in Chicagoland is going to continue to be a difficult one, especially for buyers.
One of the many reasons local REALTORS® share options is that potential sellers are just not ready to trade their low mortgage rates for higher ones, making it more difficult for buyers to find the home of their dreams.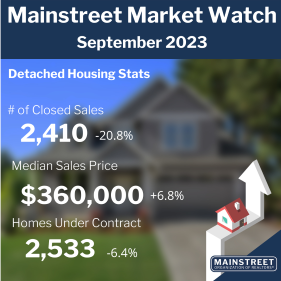 The sale of detached single family homes was down 20.8%, from 3,042 in September of 2022 to 2,410 last month, though prices remained 6.8% higher, with median sale prices this year at $360,000 compared to the same time last year when they were $337,000. Time on market held relatively steady from 35 days last year to 34 days this year.
"In addition to the Fed halting rate increases, there are things that municipalities can do to free up inventory and encourage the construction of new homes," said Mainstreet CEO John Gormley. "Modifying impact fees and zoning laws, thinking differently about big box retail properties and providing tax incentives for purchasing vacant properties are a few of the options."
In the Chicagoland PMSA, there was two months of inventory available in September. A healthy market has close to six months but local REALTORS® say it is worth noting that buying and selling a home can look very different from suburb to suburb. For example, while homes in the western suburbs may still receive multiple bids and sell over asking price at this point in time, there are areas in the south and southeast suburbs where this is not the case and homes are more affordable and accessible for buyers.
"I worked with buyers in the western suburbs who put in multiple offers over asking before they decided to take a break from the market," said Tim Ryan, President of the Mainstreet Board of Directors. "I told them if they were willing to expand their search to more communities, they could find a very similar home and they would be able to close on it almost right away. For some serious buyers, expanding their search to include a broader geographic area may be the way to go and local REALTORS® can share options."
The sale of attached family homes were also down 17.5%, from 1,503 last September to 1,240 this year. Time on market for these homes was down from 34 days in September of last year to 23 days this year, and median sale prices were 11.1% higher, rising from $216,000 last year to $240,000 this year.
This year to date, home sales of both detached and attached homes were down compared to the same time frame last year, 21.9% and 17.5% respectively. From January to September of 2022 versus 2023, prices have remained 1.4% higher for detached homes and 11.1% higher for attached homes.
In Chicagoland, the following were several of the suburbs where time on market for detached homes sold in September 2023 was up over the same month in 2022:
Addison (20.0% increase in time on market)
Brookfield (60.9%)
Calumet City (54.4%)
Chicago Heights (50.0%)
Hinsdale (148.9%)
Midlothian (166.7%)
Oak Lawn (31.6%)
Park Ridge (57.1%)
Villa Park (80.8%)
West Chicago (29.2%)
Zion (37.1%)
There are so many amazing Chicagoland suburbs. If you are a REALTOR®, help your buyers understand their options in the face of low inventory and consider introducing them to new communities where inventory may be more widely available or affordable.
Want to creatively display county statisitics on social media? Use Photofy, one of your Mainstreet member benefits to generate eye-catching graphics and dazzling posts.
Click here to be redirected to the Photofy registration page.